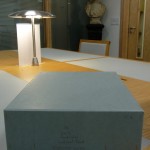 "The David Lodge Papers"
Small World, Box 4 (Restricted access)
The Cadbury Research Library – Univ. of Birmingham.
Août 2012
Dans les coulisses du roman, le dernier ouvrage critique de David Lodge paru en anglais sous le titre The Year of Henry James (2006), est un ouvrage où l'écrivain évoque, entre autres, la genèse, la composition et la réception de son livre L'Auteur! L'Auteur! (2004). Lodge y écrit dans la préface :
« Chaque roman raconte une histoire, mais chaque roman a aussi sa propre histoire qui n'apparaît pas de façon évidente dans le texte, et que le texte tente même de dissimuler ou d'effacer : l'histoire de son existence en tant qu'œuvre d'art et produit de consommation. Tout comme le public de théâtre reste d'ordinaire inconscient de l'activité qui se produit en coulisses et qui a donné naissance à la pièce qu'on lui présente (…) de la même façon, le lecteur doit aller dans 'les coulisses' d'un roman pour découvrir comment il a été conçu, altéré, écrit et réécrit, publié, promu et récompensé. » (9)

Lire la suite...